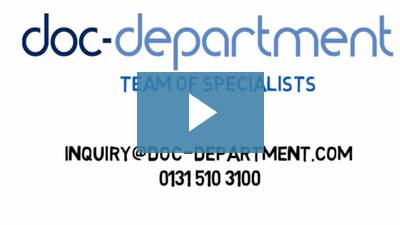 doc-department provides our clients with a team of documentation specialists with a dedicated team leader.
The team uses collaborative authoring techniques to ensure the quality and continuity of the content produced, as well as to ensure our clients have a resilient service that is always there for them.
Integral part of the team
The team lead works closely with product management and development teams, and gets involved in regular meetings. In this way doc-department gains a deep understanding of our client's products and becomes an integral part of the team.
At the start of each engagement we work closely with a client to understand their processes, and then agree how best to integrate our content production processes.
Focus on the audience
We focus on the person that needs to use the content we produce. We seek to understand:
what are they trying to achieve
and why are they trying to achieve it
Only then can we understand how best to help them effectively achieve their objectives.
By taking a holistic approach that includes a coherent content strategy we can develop a robust content production process for our clients that delivers content efficiently and gets it right consistently.
Best in-class documentation tools
We develop Content Models, Style Guides, and Templates in consultation with each client. These three pillars ensure quality through consistency of content delivered.
We use topic-based authoring and single sourcing methodologies to provide clients with the flexibility to meet their specific needs. Whether they use an agile or responsive workflow, we can integrate with their existing processes and management tools.
Transparency and openness
We believe in transparency, and openness. So our clients have access to their content at all times, and we provide regular reports showing what we are doing on our client's behalf.
Benefits
Peace of mind from always having resources and expertise available
Save costs on recruitment fees, tools and training
Match resources to requirements with a flexible service that can ramp up at peak times
Predictable costs to help manage budgets
Reduce the risk of non-compliance by ensuring documents available on time
Get more value from technical content by publishing it on-line and to mobile for use with customer support and marketing strategies
Reduce single person risk
Technical authoring case studies
Don't take our word for it, read what our clients say or call us on 0131 510 3100 to discover how we can streamline and outsource your technical documentation process.
Technical authoring examples
See examples of the types of deliverables doc-department can produce for you.